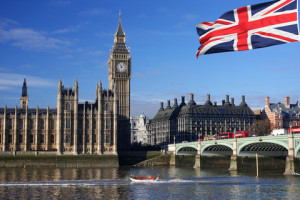 Steeped in romance and history, London, England is a travel lover's dream.  For nearly 2,000 years London has endured different cultures and different rulers to create an oasis of amazing sights and rich tradition.  If you have ever thought about experiencing one of the most historically exciting places on the planet, now is the time.
Flight tickets to London are low and just waiting for you to take advantage.
London has so much to offer.  When you are there, be sure and take in the grandeur of Buckingham Palace, the Queen's official residence. The State Rooms – 19 in all – are open to the public from July 26 to the end of September.  It is a must-see on everyone travel itinerary.  Don't miss your chance to see the where London's monarchs have live since the 1700's. If you like to get a bird's eye view of things, be sure to take a ride on the London Eye, a large white wheel over the Thames River.  Originally constructed as part of London's millennium celebration, the London Eye has become an iconic part of the London landscape.  From inside one of it's pods, you can get a fantastic panoramic view of London.  It's an experience you won't want to miss.
London has always been a hotbed of cultural innovation.  And, if you are a theater buff, there is a wealth of opportunities to see some of the finest actors in the world ply their trade.  If this is the case, your trip to London would not be compete without visiting the Royal National Theater, the Royal Shakespeare Company, or the Royal Opera House.  See where Hannibal Lector got his start! Experience where most of the cast from the Harry Potter movies learned their craft. There are museums, such as the Natural History Museum and the National Gallery that are lovers will want to spend some time getting to know. And, you would be remiss if you turned down a trip to Madame Tussauds, London's wax museum. Filled with uncanny likenesses of notables and celebrties, it is sure to be a visual treat. And, of course, there are iconic landmarks such as Big Ben and the Parliament Building that you won't want to miss. Don't miss out on the cultural and historical marvel that is London, England.
Cheap flight tickets from the U.S. can be purchased now.  Tickets from New York, Chicago, Miami, and San Francisco all start under $900 round trip.  Now is your chance to experience something truly historical!